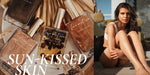 All that shimmers this summer.
Picture this, you're dressed effortlessly in your go-to summer set, you can taste the salt wrapped in the air. 
A light summer scent whimsically floats with you, your hair bounces effortlessly, the sun melts into your skin, all that shimmers is your flawless bronzed skin.
That is the summer edit for 2020: Effortless beauty, fearless healthy golden skin, a bright luminous lip. 

The Cultivated has uncovered the essentials you need to become a sunkissed goddess without damaging your skin. 
We are talking about seriously sun-kissed skin for summer: If you can't be on a boat floating in Athens, we will bring the boat to you.


STEP 1. THREE WARRIORS SELF-TANNING MOUSSE
Give your skin that just-got-back-from-the-Maldives glow all year round. 
The Three Warriors self Tanning Mousse is an elegant solution that is fast-absorbing. 
Infused with delicate lime and vanilla scent, the mousse glides on, developing a gradual deep, golden glow.
What makes it so unique? It's Australian made, free from toxic chemicals and certified organic, this unique tanning formula allows you total control over the depth of your glow.
It's an effortless self-care ritual that you'll be sure to fall in love with.



STEP 2. SALT & STONE SUNSCREEN
The base of your sunkissed look is a layer of ultra-lightweight SPF 30 lotion from Sand and Stone. 
Sand and Stone have formulated a lotion that is water and sweat-resistant. The non-greasy formula seeps into your skin without leaving residue, powerfully protecting your skin. 
Sand and Stone sunscreen houses ingredients like Hyaluronic Acid, Green Tea and Ashwagandha that both calm and moisturise the skin, whilst Non-Nano Zinc Oxide blocks UVA + UVB rays.


STEP 3. GYPSY OIL SHIMMERS BY LUX AESTIVA
Boost your glow and enhance your radiance with Shimmer Gypsy Oil. Featuring natural mica particles, giving your skin that extra glow. 
This vitamin-rich botanical oil contains prickly pear oil, for deep hydration and meadowfoam oil, to balance the skin's oil production whilst glistening with peachy golden pink tones.
This deeply nourishing solution will revitalise and refresh the skin to deliver a sunkissed bronze complexion, adding another layer of freshness to your natural goddess look.
STEP 4. NOTO HIGHLIGHT STICK
Say hello to the "no-makeup - makeup look" this summer. Allow your beautiful skin to shine through. 
The Noto Highlighter Stick will give you an entirely
sheer, dewy glow that can hydrate and highlight.
Packed full of organic ingredients, use the Noto Highlight on your eyelids, cupids bow, collar bones, shoulders, and legs.
STEP 5. 24K GOLD BODY OIL BY KAPRIELLE
Adorn your body in a velvety smooth serum to complete your sun-kissed summer look.
The 24k Gold Body Oil will tighten and firm the skin while eliminating those pesky toxins from fat cells. We promise you don't be disappointed with this Kaprielle essential.
And that's a wrap on this month's edit to sun-kissed skin. 
Shop the Cultivated quintessential this summer.