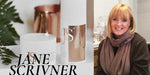 Words dedicated to beauty innovator: A conversation that takes you from behind the scenes, to favourite moments, skin remedies, inspiration, essentials and more.
JANE SCRIVNER: A devotee to skincare and skin therapy for over 30 years. Jane Scrivner is le creme de la creme in skincare. Jane's skincare takes care of your skin regime from begging to end.
Exfoliators, facial-oils, skin-hydration, cleansers, pastes, serums, masques and moistures. Inspiration sourced from around the world, Meet, Jane Scrivner.
Tell us what inspired you to start your brand?
It was a process of 'seeing is believing' I taught spa therapists around the world for many years, and in any training situation, wherever you are in the world you need a massage oil.  In the UK that would pretty much always be Sunflower or Grapeseed and that is why I understood why they were called Base Oils or Carrier Oils – they were the something you put the essential oils in, the something that allowed delivery of essential oils and treatments.  They didn't have much of a purpose in that respect and after 2 or 3 days of using them you felt like they stopped absorbing and started just sitting on the skin so actually not that pleasant.
THEN when teaching in Chile or Morocco or even the USA, the oils they would bring to class were totally different, Rose Hip, Argan and Jojoba and almost instantly I realized they were not the something, they were the thing!
This is when I realized that they were actually CORE, core to texture, core to the effect they had on the skin, core to the skins nutrition and gave core results.  Add this to the fact that any facial product can really only legally have around 1% of essential oil, then you need 99% of something else and I had found my fabulous something else.
Starting a brand based on the rich oils available from around the world, showcasing the skin nutritional qualities was where it all started and where the core of the range still lies – pretty much every product has a core oil in its ingredient list, and if it doesn't there has to be a very good reason!!

First thing you do when you wake up?

Try and work out if I need to be up!  I am a true sleeper, I can be asleep in seconds once my head hits a pillow and I can sleep 9 hours no problem, I LOVE sleep.  BUT, once awake it's into the bathroom, cleanse, shower and the day starts.


Time spent on beauty in the a.m.?
Beauty is a big word for me, I know we are in the Beauty Industry but I think of our skincare as just that, it is taking a few moments to take care of the skin, am & pm and then everything else can follow, make up, no makeup, confidence with, confidence without etc.  Healthy skin is the market we are in and beauty comes from that, comes from the inside and then the rest is a bonus.


Typical skincare regimen?
Cleanse, exfoliate, hydrate, nourish and protect, every day, twice a day or more.  The 5 steps for sure and the nourish can be facial oil or a richer balm.  At night I may apply Vitamin C after exfoliation and then a little balm or moisturizer but I can get the entire routine done in moments, layering thinly
I then need to confess to the experimentation!  Most days I want to try an ingredient or oil or something to see how it feels or works or how my skin likes or doesn't so that is another layer added to my routine.


Secrets to keeping youthful?
You know, I really don't think there are 'trade secrets' I think each of us has their own way but for me it is trying not to stress about much, getting enough sleep (see previous answer!) Eating well is imperative, I always say when talking about skin is that 'We grow this stuff, it doesn't just arrive overnight'  Our skin is the manifestation of everything you did in the last few months and what you are doing right now, it's the same for body and mind.  Just being aware of feeding and nourishing on every level and more importantly being aware when you are not feeding and nourishing on every level and doing something about it.


Favourite beauty moments?
Lip gloss!  The moment when makeup is applied but something's not quite finished and it totally lights up with application of lipcolour/gloss/stick – whatever you use, defining the lips means I am absolutely good to go.


What makes you feel ready to face the world?
Good skin, lip gloss and a manicure.  If I can be cheeky and add a professional blow dry then I truly believe I could conquer the world


Favourite workout?
I truly dislike exercise!  On my 40th birthday I decided to confess to friends that I actually didn't like going for walks.  I had tried boot camps, personal trainers (where my opening instructions were 'I don't sweat and I don't leave the ground') gym memberships, yoga (broke my toe in my first class when my teacher arrived wearing a unitard and made us do impossible manoeuvers so that he could demo them again and again when we didn't get them right) and each and every time I found them too Yang, too shouty and just horrid.
THEN I found a yoga teacher that I just 'got' and now I try to manage 3 classes a week and have also been on Yoga retreats in India, I have found my happy place that has me calmer, leaner, more centered and loving it.


Go-to breakfast and a.m. beverage?
Lapsang Souchong black tea or Russian Grey black tea and weekends is coffee.


How many beauty products do you travel with?
Skincare, 5 or 6.  Shower care 1 or 2, haircare 2, Makeup, way too much as by day 3 I totally give up the need to apply and go barefaced.


Foolproof self-care move?
Facial massage for skin (with a fabulous balm or oil) Yoga for body & mind and Millinery for mind!


Self-care approach?
Be kind to yourself.  Allow and give permission.  We are so good at putting everything in the way of us checking out and doing something for the pure enjoyment – so I now make sure that I do pure enjoyment more.  It never stops anything else from being done, in fact it nearly always means you end up getting more done, being more creative, having more ideas and smiling more – what's not to like.


Signature scent?
Knize Ten, leathery, smoky with a dry down of cherry.  Created to be worn when drinking Aviations – a cocktail created in 1925 for the dawn of aviation travel and said to be inspired by Marlene Dietrich.  It is aromatherapy, mixology and total glamour in a glass.
 

Best career advice you've ever received?
It wasn't actual advice it was experience.  During my degree I had a year working for IBM and my manager was a formidable but fabulous woman that made it very clear that if I hadn't checked, double checked and covered off every possible scenario for any meeting or event I was organizing then that wasn't enough.  I truly think it's the one thing that has me where I am today, it's not about preparation it's about being prepared, to think on your feet, to know and to know what you don't know – and then know!
She was also the first person that I know that had manicures, I think I learnt 2 very gorgeous lessons from her!

An expensive-but-worth-it product or treatment?
Skincare – the BEST ingredients you can buy.  Beauty, the best haircut you can get.  It always ends up saving you money as a good cut lasts longer, grows out better and looks and feels great.  It frames the face and shows off a healthy, glowing complexion.


A cheap-but-chic product or treatment?
Facial massage using a gua sha blade and a splash of cool water on cleansed skin


Bedside beauty essentials?
Our Overnight Recharge Balm is the only product I have on my bedside table – all other skincare happens in the bathroom or dressing room and the final application is a thin film of our latest balm, you awake looking like you slept for 9 hours (!) and just moisturized, pillow soft skin and glowing to go!


Last thing you do before bed?

I don't ever remember because I'm usually asleep.


Beauty icons?

How long have you got….Judy Dench, Helen Mirren, Diane Keaton, Carmen Dell'Orefice, Daphne Selfe, Beatrix Ost, Iris Apfel, Debra Rapoport – can you tell I'm prepping for my 60's and planning to love it!


Best advice you've ever received?
Breathe!


Scariest thing you've ever done?
Climbed a telegraph pole and jumped off – breathing helped – a lot! (I did have a harness but it didn't feel like it when I was up there!)


Best hidden talent?
Millinery, proper stuff, making blocked hats, hand sewn, hand edged, hand wired.  I made some for ladies day in the Royal Enclosure at Ascot too.  They are complete escapsim and are the best way to empty my mind to let the ideas creep into the spaces made.
Shop Jane Scrivner