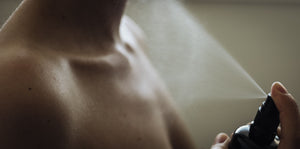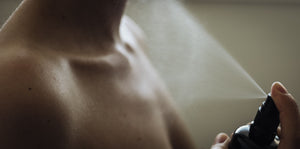 On Sale
Tau 100ml

Revitalise your skin with the hydrating formula of Tau. This luxurious facial mist features concentrated plant extracts and aromatic oils to bestow an experience of a blossoming spring garden. Crafted with aloe vera and jasmine, this natural blend of potent antioxidants and botanicals will leave skin looking refreshed and renewed.
How to use
After cleansing, to seal in hydration, to fix make-up or as a refreshing pick-me-up throughout the day generously mist over skin and neck.
Perfume- A delicious aromatherapeutic blend of extracts and essential oils linger on your skin the whole day, perfect for those looking for a healthier perfume alternative.
Bonus: TAU works wonders to treat and prevent irritations from shaving such as rashes, ingrown hair and small cuts. If you are male or if you want to spoil your partner to something special, it is the ideal - and often healthier - choice instead of a classical aftershave.
> Shake well before each use.
Ingredients: *Aloe Barbadensis (Aloe Vera) Leaf Juice,*Jasminum Grandiflorum (Jasmine) Hydrosol, Dimethyl Sulfone (Sulfur),*°Citrus Aurantium Bergamia (Bergamot) Oil, Herbal Blend of: *Glycyrrhiza Glabra (Licorice), +Plantego Lanceolata (Ribwort),+Rosmarinus Officinalis (Rosemary), *Curcuma Longa (Turmeric),*Hibiscus Rosa Sinensis (Hibiscus),+Chondrus Crispus (Irish Moss),+Melissa Officinalis (Lemon Balm),+Taraxacum Officinale (Dandelion Leaf) and +Urtica Dioica (Nettle), Aqua (Water) *Citrus Grandis (Grapefruit) Seed Extract,*Cananga Odorata (Ylang Ylang) Oil, Jasminum Grandiflorum (Jasmin) Absolue, *Vanilla Planifolia (Vanilla) CO2 Extract, *Rosmarinus Officinalis (Rosemary) Oil, *Eucalyptus Radiata (Eucalyptus) Oil, *Viola Odorata (Violet) CO2 Extract, Argentum Metallicum (Colloidal Silver), **Benzyl Alcohol,**Benzyl Benzoate, **Benzyl Salicylate, **Citral, **Eugenol, **Farnesol, **Geraniol, **Isoeugenol, **Limonene, **Linalool.