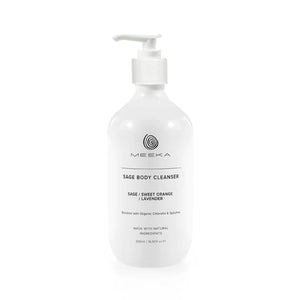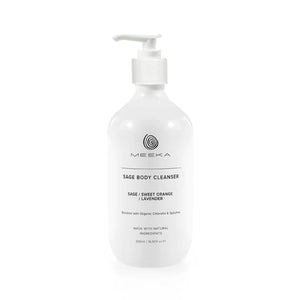 On Sale
Sage Body Cleanser

For All Skin Types | 500ml
Start & end your day cleansing & purifying with our organic Sage body cleanser. Formulated with active vitamin enriched Australian bush extracts, biodynamic nut oils, Aloe Vera, Chlorella & Spirulina extracts. Our active ingredients infuse the skin with minerals, carotenoids & antioxidants keeping your skin healthy & radiant. Our aromatherapy blend of Sage, Sweet Orange & Lavender essential oils offer protection, fortitude, courage & psychological well-being. 100% natural plant based & organic ingredients used. This cleanser foams beautifully & is PH balanced so it does not dry or irritate the skin. Also a great lathering shampoo for all hair types.
It DOES NOT CONTAIN - Sulphates, Artificial Preservatives, Fluorides, Parabens ,Mineral Oils, Palm Oil, Synthetic Chemicals, Additives, Fragrances, Colours, Artificial Emulsifiers, Non Gmo & is non toxic.
- Australian made
- Vegan Friendly
- Not tested on animals
- Cruelty free
- 100% natural 
THE RITUAL 
Begin your cleansing ritual in the shower or bath. Dispense desired amount of body cleanser onto your palm or hydrated sea sponge, cleanse over your skin, while breathing deeply. Benefiting your body, mind & mood.

SAGE DALMATIAN ESSENTIAL OIL
-

 

Contains antioxidants benefits: combats free radicals. 

 
- 

Tones, tightens & encourages new growth of skin. 


-

 

Anti-inflammatory; reduces skin inflammation.


- Anti-bacterial; kills & inhibits growth of bacteria.
- 

Relieves oily skin; removes blackheads, provides acne relief, reduces cellulite, relieves eczema, dermatitis & psoriasis.


-

 

Contains cicatrisant; helps diminish scars, marks & spots.


-

 

Aromatherapy benefits: uplifting, relaxing, calming; alleviates stress, tension & exhaustion.





SWEET ORANGE ESSENTIAL OIL
- Anti-inflammatory & helps cure Acne & dermatitis.
- Antiseptic; inhibits microbial growth & disinfects wounds.
- Relaxes muscular & nervous spasms.
- Reduces cellulite.
- Aromatherapy benefits : carminative, aphrodisiac, alleviates depression, anxiety & anger.

ORGANIC CHLORELLA
-  Rich in caratenoids, vitamins, amino acids & minerals.
-  Powerful anti-aging benefits.
-  Reduces scarring, pigmentation & skin irritations.

ORGANIC SPIRULINA
- Rich in vitamins & minerals.
- Eliminates toxins & facilitates faster cell renewal.
- Contains antioxidants benefits: combats free radicals & acne, tones & tightens skin.

INGREDIENTS Purified Water, Certified Organic Botanical Blend of Lavender, Rosehip, Burdock, Chamomile, Calendula, Horsetail (herb); Organic Safflower Oil, Biodynamic Avocado Oil, Biodynamic Macadamia Oil, Grapefruit Seed Extract, Australian Bush Extracts of Kakadu Plum Decyl Glycoside (sugar derivative), Aloe Vera, Alpha Olefin, Soy Lecithin, Organic Jojoba Oil, Citrus Seed Extract, Guar Gum, Olive Leaf Extract, Potassium Sorbate, Sea Salt, Organic Locust Bean Gum, Organic Chlorella, Organic Spirulina, Sage Dalmatian Essential Oil, Sweet Orange Essential Oil, Organic Lavender Essential Oil.