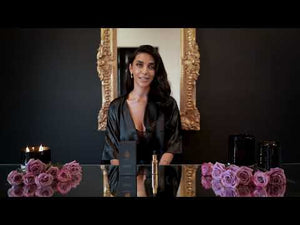 On Sale
ROSES & GOLD EXOTIC FACE SERUM 30ml

Immerse your senses in alluring notes of rose, as this Kaprielle Exotic Face Serum moisturises and soothes to deliver a glowing complexion. Made with pure 24k Gold also known as natures Botox. The ideal addition to your existing skincare ritual, this luxurious formulation nourishes the skin, while firming, tightening and lightening dark spots and combats acne skin.
How to use
Shake well before use.
Put a few drops onto clean fingertips and gently apply on your skin.
For best results use morning and night.
Apply with your foundation for a beautiful glowing effect.
Ingredients: 24K gold flakes, Moroccan rose essential oil, geranium essential oil, rosehip seed oil, vitamin e oil, jojoba oil.