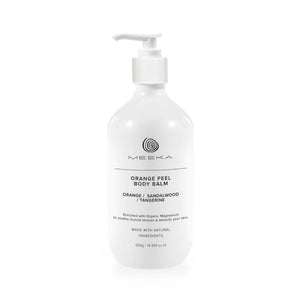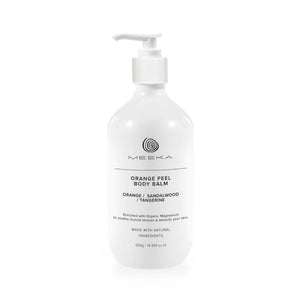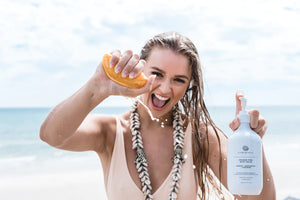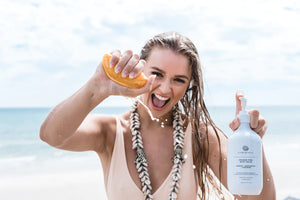 On Sale
Orange Peel Body Balm


For All Skin Types | 500ml
A nourishing & protective lotion, enriched with organic Magnesium, Almond Oil, Pumpkin Seed, Carrot Seed, Rose Hip & Shea Nut Butter. Fast absorbing to effectively hydrate & soften the skin while Magnesium helps relax & soothe muscle tension along with detoxifying the skin. Our organic blend of cold pressed essential oils Sweet Orange, Sandalwood & Tangerine, will uplift your mood & relive stress & anxiety.
Tip: As this body balm has a high percent of Magnesium it is not to be used on the face.
It DOES NOT CONTAIN - Sulphates, Artificial Preservatives, Fluorides, Parabens ,Mineral Oils, Palm Oil, Synthetic Chemicals, Additives, Fragrances, Colours, Artificial Emulsifiers, Non Gmo & is Non Toxic.
- Australian made
- Vegan Friendly
- Not tested on animals
- Cruelty free
- 100% natural 
THE RITUAL 
Apply generously over body and massage into skin until fully absorbed. For optimal hydration apply to damp skin immediately after showering morning & night.

MAGNESIUM FLAKES
Using Magnesium oil topically can help solve a variety of skin troubles, including oily skin, acne rosacea, seborrheic dermatitis, psoriasis, & eczema. Along with many other health benefits such as:


- Cellular detoxification
- Decreased inflammation
- Enhanced cognitive function
- Better bone health
- Fewer headaches & migraines
- Improved sleep
- Less stress & anxiety
- Reduction in muscle aches & pains
- Anti ageing effects
- …and much more! 

SHEA BUTTER
- Moisturising: The concentration of natural vitamins and fatty acids in Shea butter makes it incredibly nourishing & moisturising for skin. It is often used to remedy dry skin & to help protect the skin's natural oils.

- Reduces Inflammation: A 2010 study found that due to its cinnamic acid & other natural properties, Shea butter was anti-inflammatory. One compound in particular, lupeol cinnamate, was found to reduce skin inflammation & even potentially help avoid skin mutations. This also makes it beneficial for some people with acne.

- Skin Smoothing: Shea butter aids in the skin's natural collagen production & contains oleic, stearic, palmitic & linolenic acids that protect and nourish the skin to prevent drying. With long term use, many people report skin softening & strengthening as well as wrinkle reduction.

SWEET ORANGE ESSENTIAL OIL

- Anti-inflammatory & helps cure acne & dermatitis
- Antiseptic; inhibits microbial growth and disinfects wounds
- Relaxes muscular & nervous spasms
- Reduces cellulite
- Aromatherapy benefits : carminative, aphrodisiac, alleviates depression , anxiety & anger

INGREDIENTS Purified Water, Organic Aloe Vera Juice, Sunflower Oil, Organic Shea Butter, Organic Olive Oil, Magnesium Flakes, Organic Sweet Orange Essential Oil, Organic Lavender Essential Oil, Sandalwood Essential Oil, Tangerine Essential Oil, Locust Bean Gum, Potassium Sorbate, Cetearyl Alcohol, Glycerly Monostearate, Pumpkin Seed Oil, Carrot Seed Oil, Corn Oil, Hazelnut Oil, Cucumber Oil, Sweet Almond Oil, Organic Macadamia Oil, Organic Avocado Oil, Citric Acid, Rosemary Extract, Natural Vitamin E, Tomato Seed Oil, Organic Olive Leaf Extract, Rosehip Extract.