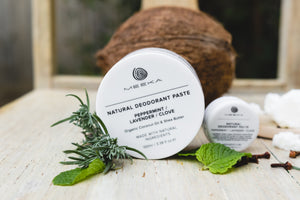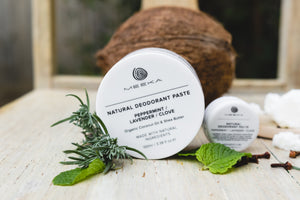 On Sale
Natural Deodorant Paste

For All Skin Types | 100g
Peppermint / Lavender / Clove / Organic Coconut Oil & Shea Butter

This 100% natural deodorant formula effectively neutralises underarm odour & minimises wetness without the use of Aluminium, synthetics & chemicals. Our trialled and tested blend of ingredients including Activated Coconut Charcoal helps draw out toxins and keep you odour free.
Apply to cover each armpit. Gently rub it in & be odour free. Do not apply directly after shaving.
It DOES NOT CONTAIN - Sulphates, Artificial Preservatives, Fluorides, Parabens ,Mineral Oils, Palm Oil, Synthetic Chemicals, Additives, Fragrances, Colours, Artificial Emulsifiers, Non Gmo & is non toxic.
- Australian made
- Vegan Friendly
- Not tested on animals
- Cruelty free
- 100% natural 
INGREDIENTS Kaolin Clay, Sodium Bicarbonate, Organic Coconut Oil, Organic Shea Butter, Organic Lavender Essential Oil, Organic Camellia Essential Oil, Organic Sunflower Oil, Organic Peppermint Essential Oil, Vitamin E, Organic Clove Bud Essential Oil, Organic Rosemary Extract, Magnesium Sulphate, Activated Charcoal.