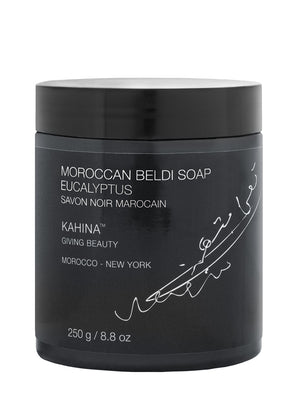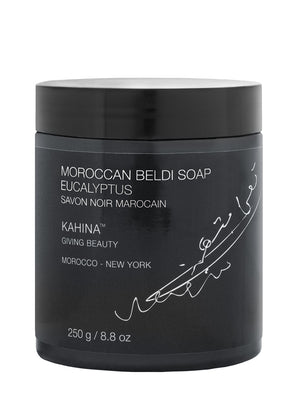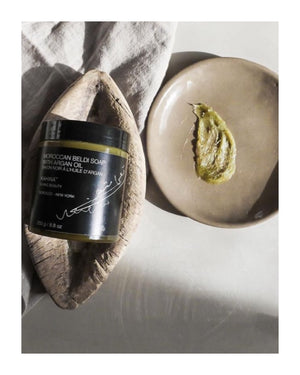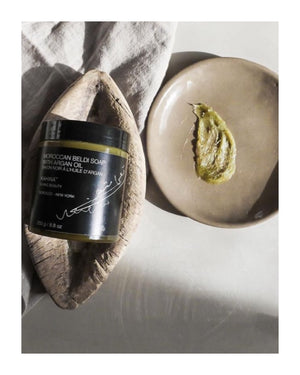 On Sale
Moroccan Beldi Soap with Eucalyptus 250g

Traditional skin softening treatment from the Moroccan hammam (Turkish bath)
A beloved beauty ritual of Kahina's founder Catherine, this authentic product is imported directly from Morocco.
• Scented with eucalyptus and naturally rich in vitamin E
• The gel-like soap made from saponified olive oil acts as a body masque and is a Moroccan specialty.
• Beldi means "traditional" or "authentic" in Moroccan.
Moroccan Beldi Soap features a eucalyptus infusion that deserves to be a part of every skincare ritual. This delicate gel-like soap nourishes the body with a formula rich in vitamin e, while natural olive oil acts as a hydrating body masque.
How to use
To cleanse: Massage a tablespoon of savon noir onto skin or washcloth in bath or shower and rinse off.
For skin cleansing and softening: After 5-10 minutes in bath, shower, or steam, massage into skin and leave on for up to 10 minutes before rinsing with warm water. Skin will be softened and ready for exfoliating with mitt, glove, washcloth, or konjac sponge.
For best results, use Kahina Giving Beauty Moroccan kessa glove.
May also be used for simple cleansing as a deliciously scented soap replacement.
Ingredients: saponified olea europaea (olive) oil, eucalyptus globulus (eucalyptus) leaf oil.