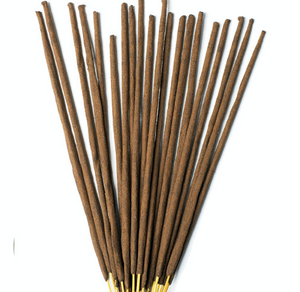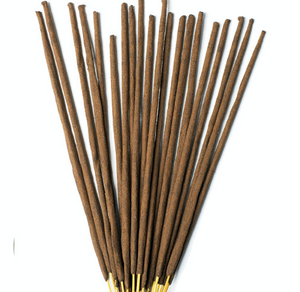 On Sale
Luxury Incense Sticks 20 sticks - Oracle

Indulge you senses with Luxury Incense Sticks from Lux Aestiva. Hand rolled at the base of the Himalayas, where people have revered the benefits of incense since ancient times, with herbs resins, spices and botanicals working to calm the body and focus the mind.
How to use
Place stick in your incense vessel. Light the end. Allow flame to catch. Extinguish flame by blowing gently while continuing to let it smolder.
Ingredients: Why are our incense sticks different to 'normal' and often much cheaper incense stick? The methods utilised by our artisans provides a much purer, natural scent than you'll find with cheaper sticks that are often made by 'dipping' absorbent sawdust-coated sticks into synthetic fragrances and other chemicals.
You will be surprised and disappointed to learn of the inferior materials often used in cheap modern incense - ingredients such as coal powder, washing soda ash, grease and used motor oils, rubber solutions and melted tyres, and even albumen powder derived from the blood of slaughtered animals are often used as binding agents. Cheaper, inferior incense sticks often use synthetic perfumes and fragrances that are also believed to produce harmful CO2 when burnt.
All our incense are free of animal products and are 100% vegan. Burn time per stick is approx. 40 minutes.