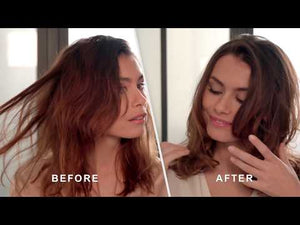 On Sale
Hydrating Shampoo Bar with Aloe Vera 100g

The Hydrating Shampoo Bar from Christopher Robin deeply nourishes the hair to enhance volume, while promoting increased absorption for greater hydration. Crafted with aloe vera, this 100% natural and artisanal solution cleanses the hair and body, leaving the hair full of vitality.
NO Parabéns, Sulphates, Phthalate, Aminophenol, Phenylenediamine, Triclosan, Toluene, Diethanolamine,
100% Vegan, Organic ingredients
How to use
Wet the hair and the bar, apply directly to the scalp and massage to work up a lather, then rinse VERY thoroughly.
Follow with the hydrating leave-in mist with aloe vera to help detangle the lengths.
Avoid contact with eyes.
Your hair needs to adapt to this new synthetic agent free formula.
Ingredients: Olea Europaea Fruit Oil*, Cocos Nucifera Oil*, Aqua, Sodium Hydroxide, Linum Usitatissimum Seed Oil*, Ricinus Communis Seed Oil, Aloe Barbadensis Leaf Juice*, Citrus Aurantium Leaf Oil, Beer, Linalool, Sodium Phytate, Citric Acid, Geraniol, Limonene, Citral. (*From Organic Farming)