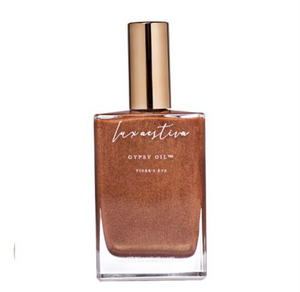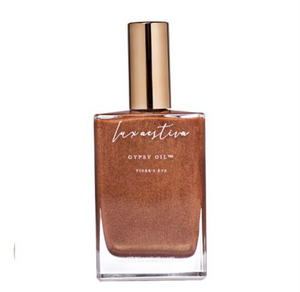 On Sale
Gypsy Oil Shimmers 100ml

Boost your glow and enhance your radiance with Shimmer Gypsy Oil. Featuring natural mica particles, this deeply nourishing solution will revitalise and refresh skin to deliver a sun kissed bronze complexion, ready for summer.
How to use
Apply using circular motion. Wash hands after use. Avoid contact with fabrics. Shake well before each use.
Shimmer Gypsy Oil's (Rose Quartz & Smoky Quartz) are natural, handmade products that contain a crushed, natural mineral called mica. As we do not want our products to contain any nasty ingredients to 'suspend' the mica in the Gypsy Oil - you will find the product will settle over time. Be sure to give your Gypsy Shimmer Oils a good shake every now and then (every couple of days) and before each use.
Ingredients: Grapeseed Oil, Camellia Oil, Sweet Almond, Apricot Oil, Rosehip Oil, Meadowfoam Seed Oil, Pomegranate Seed Oil, Prickly Pear Oil, Non-phototoxic Bergamot Peel, Neroli Blossom Oil, Patchouli Oil, Mica Powders.