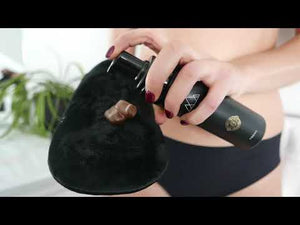 On Sale
ECO-FRIENDLY TANNING MITT

Achieve a flawless tan every time with the Eco-Friendly Tanning Mitt form Three Warriors. Made from eco-friendly materials, experience the luxurious feel of a velour tanning glove, as it glides across the skin for a smooth, streak-free finish.
How to use
1. Glove up. Slip the tanning mitt onto your dominant hand, ensuring your fingertips reach right to the end so as to create a firm fit that ensures the tanning glove won't slide.
2. Cover your bases. Before applying the tan, make sure to grab a plastic glove or wrap a towel around your other hand to protect it from being stained when you pump the tanning mousse.
3. Pump away. Gently pump the tanning mousse a few times to release a small portion of organic tan onto the tanning mitt.
4. Circulate it. Slowly begin to apply the tanning mousse in circular motions, gliding over every inch of skin from top to toe.
5. Contour to complete. With a first coat of fake tan applied, gently flip the tanning mitt over and use the dry side to contour the body, paying special attention to face, neck, hands, and feet.
6. Rinse and repeat. To keep tanning mitt in good condition, remove the fake tan from the tanning glove using lukewarm water, then allow it air dry before storing away.
Ingredients: Three Warriors products are all Certified Organic, Australian Certified Toxic-Free, Cruelty Free. We are proud to produce both natural and organic fake tan that is Australian made with ingredients sourced locally from the pristine Tasmanian shores, our home state. As an accessory that compliments our tanning range, the Three Warriors Eco-Friendly Tanning Mitt is also made using eco-friendly materials that support the environment and our bodies. The tanning gloves feature double-sided high quality velour that has been machine stitched to ensure no stains or streaks leak through to hands.