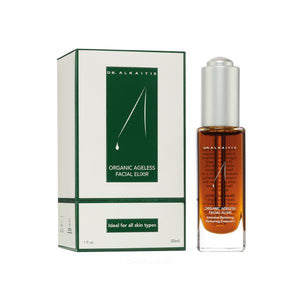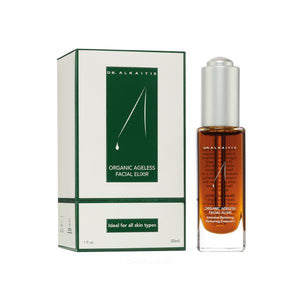 On Sale
Dr Alkaitis Organic Ageless Facial Elixir 30ml

Featuring all raw ingredients, Organic Ageless Facial Elixir offers a regenerative and restorative experience for naturally healthy skin. The antioxidant-rich formula contains an intensive combination anti-ageing vitamins, Ayurvedic herbs and potent superfoods to promote luminous skin and a deeply nourished complexion at the cellular level.
Formulated with Dr. Alkaitis' Signature Skin Renewing and Rejuvenating Oil Complex and Skin-Youth Enhancing Herbal Complex.
While deeply moisturizing and stimulating cell renewal, the Elixir protects your skin from environmental damage. Highly therapeutic for all skin conditions
PRODUCT BENEFITS
Supports cell renewal
Strengthens your skin's natural barrier
Visibly smoothens your skin's surface
Deeply moisturizes and nourishes
Refines pores
Balances Promotes a healthy golden glow
How to use
Use twice a day, morning and night. Dispense two pumps of the elixir onto fingers and gently massage into face, neck and décolletage.
Use upwards motions when massaging and focus time on working the elixir into the skin.
Ingredients: Formulated with Dr. Alkaitis' Signature Skin Renewing and Rejuvenating Oil Complex and Skin-Youth Enhancing Herbal Complex Skin Renewing and Rejuvenating Oil Complex (Andiroba Oil*, Buriti Oil*, Pequi Oil*, Marula Oil*, Ximenia Oil, Pracaxi Oil*, Copaiba*, Maracuja Oil*, Acai Oil*, Jojoba Oil*, Sacha Inchi Oil*), Skin Youth Enhancing Herbal Complex (Tamanu Oil*, Shatavari Extract*, Ashwaganda Root Extract*, Amalaki Extract*, Black Musli Extract*, Red Sage Extract*, Gotu Kola Extract*, Hawthorn Extract*, Rosehips Extract*, Arjuna Extract*, Vacha Root Extract*, Wakame Extract*, Saffron Extract*, Tulsi Extrtact*, Rosemary Extract*, Bala Root Extract*, Sea buckthorn Extract*, Kombu Extract⁰, Neem Leaf Extract*, Codonopsis Extract*, Manjista Extract*, Turmeric Extract*, Ginseng Extract*, Echinacea Extract*, Lemon Balm Extract*), Full Spectrum Natural Vitamin E Complex (D-alpha, beta, gamma, delta Tocopherols and Tocotrienols ), Aroma (A blend of 100% Pure Essential Oils), Citral**, Citronellol**, Eugenol**, Geraniol**, Limonene**, Linalool**