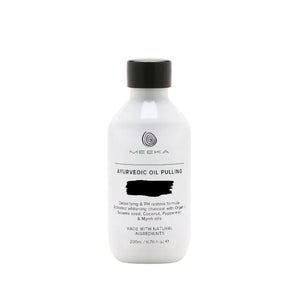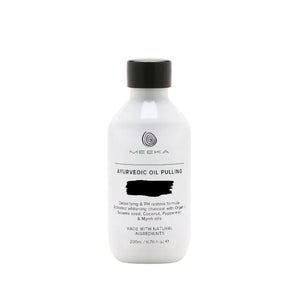 On Sale
Ayurvedic Activated Charcoal Oil Pulling

200ml
Detoxifying & PH restore liquid formula. Our Oil pulling solution is formulated with the purest active ingredients such as Activated Whitening Charcoal, Organic Sesame Seed, Organic Coconut, Peppermint & Myrrh oils. Combined they naturally detoxify the mouth, whiten your teeth, draw out bacteria, prevent tooth decay & combat bad breath. Oil Pulling is an ancient Ayurvedic technique to detoxify the mouth & entire body along with providing support for the immune system & your oral health. Bacteria hiding under crevices in the gums, pores and tubules within the teeth are sucked out & held firmly in the solution. The longer you push & pull the oil through your mouth, the more microbes are pulled free.
It DOES NOT CONTAIN - Fluoride Free, Palm Oil, Sulphates, Artificial Preservatives, Fluorides, Parabens, Mineral Oils, Synthetic Chemicals, Additives, Fragrances, Colours, Artificial Emulsifiers. Not Genetically Modified and is Non Toxic.
- Australian made
- Vegan Friendly
- Not tested on animals
- Cruelty free
- 100% natural
THE RITUAL 
Simply shake bottle, swish and gargle orally for 10 - 20 minutes, spit out carefully into sink. To be done once a day prior to brushing teeth. 

3 Easy Steps To A Healthy Brighter Smile 

Step 1-

 

Oil pull every morning before a meal. Push and pull liquid in your mouth for 10-20 min.  
Step 2-

 

Brush your teeth with our Organic Toothpaste.  
Step 3-

 

Gargle with our Organic Oral Swish, gargle for at least 30 sec.   Your mouth should be feeling clean and fresh.
ACTIVATED COCONUT CHARCOAL
Is a highly absorbent substance. It removes toxins when they adhere to the surface of the charcoal. Restores the pH and health of the mouth, and is effective in preventing cavities and killing the bad bacteria present in tooth decay and gingivitis.
COCONUT OIL
Draws the toxins out of your mouth and creates a clean, antiseptic oral environment that helps prevent cavities and disease.
- Eliminating bacteria
- Whitening the teeth
- Freshening breath
- Treating migraines
- Alleviating chronic pain
SESAME OIL 
- Eliminating bacteria
- Whitening the teeth
- Freshening breath
- Treating migraines
- Alleviating chronic pain
MYRRH ESSENTIAL OIL 
prevents Gum and mouth diseases – It helps relieve toothache, gingivitis, and mouth ulcers, and also freshens your breath. Myrrh oil is great for Immune system health - It strengthens and activates your immune system to help keep your body protected from infections.
INGREDIENTS - Sunflower Oil, Organic Coconut Oil, Organic Sesame Oil, Activated Charcoal, Peppermint Essential Oil, Spearmint Essential Oil, Organic Myrrh Essential Oil.