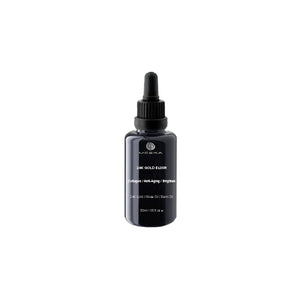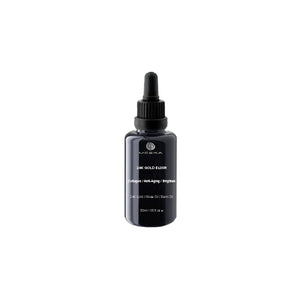 On Sale
24K Gold Elixir

NEW! 

For All Skin Types  30ml / 1.01fl oz e
Collagen / Anti-ageing / Brighten

Active Ingredients
24k Gold / Rose Oil / Elemi Oil 


This 24k gold-infused beauty oil elixir is formulated with potent ingredients that work synergistically to provide the ultimate results. The gold ions activate our own collagen regeneration after entering the skin, which improve skin elasticity, reduces fine lines and fades pigmentation.

Rose and hemp oils are naturally rich in vitamins A, C and E, which generates cellular renewal and reinforces the skin's natural lipid barrier. The pure 24k Gold flakes absorb easily into the skin, instantaneously brightening dull complexions with a radiant glow.

RESULTS

Lightens pigmentation
Anti Ageing
Support natural skin cell renewal
Brighten skins appearance
Keeps skin youthful and glowing
Repairs skins barrier function
Anti-oxidant protection from damaging free radicals

Keeps skin hydrated

- Active ingredients
- Vegan Friendly
- Vegan Friendly
- Not tested on animals
- Cruelty free
- 100% natural
- Stable
- Active

It DOES NOT CONTAIN - Water, Sulphates, Artificial Preservatives, Fluorides, Parabens ,Mineral Oils, Palm Oil, Synthetic Chemicals, Additives, Fragrances, Colours, Artificial Emulsifiers, Non Gmo & is non toxic.             

Sustainable Packaging - To help us on our mission to reduce unnecessary waste, you will receive your beautiful serum without the outer carton. The bottles we have chose are  recyclable Miron Biophotonic glass known to naturally filter the spectrum of visible sunlight, only allowing through infra red and UVA 'violet' light. Because of its natural ability to block light it protects precious contents from perishing in sunlight, increasing its shelf life and effectiveness.

Non-comedogenic and suitable for all skin types. Safe during pregnancy and breastfeeding.
24K GOLD FLAKES
Gold not only gives a beautiful, glowing and youthful skin but is also beneficial in many ways. It slows down the collagen depletion, increases skin's elasticity, lightens the skin's complexion, stimulates the cells making the skin firm, improves blood circulation and prevents premature ageing and wrinkles.

HEMP SEED OIL
Hemp oil is perfect for most skin types as it can moisturise without clogging your pores. It can even help to balance out oily skin, hydrating it and regulating the skin's oil production. Dryness can also cause your skin to overproduce oil, which in turn, can stimulate acne. Hemp oil can prevent dry skin without clogging pores. This helps reduce acne that's caused by excess oil.

CALENDULA OIL
Calendula is ideal for healing redness, acne and sunburn. Calendula has antiseptic properties, which are helpful for treating wounds and preventing acne. As a skin conditioner, Calendula Extract stimulates collagen production and it also reduces the occurrence of dry skin.

ROSE OIL
Often referred to as "liquid gold" or the "queen of all oils," this oil is great for use on all skin types, including sensitive skin. Rich in gifts from mother nature, Rose Oil helps promote beautiful, radiant skin. It is packed with an array of vitamins, minerals, antioxidants and amino acids, all of which aid in treating common skin conditions such as ageing, redness and even adult acne. This versatile oil is perfect for all skin types and its soothing effects also make it great for those with sensitive skin.

INGREDIENTS  Prunus amygdalus dulcis oil (almond sweet oil), simmondsia chinensis seed oil (jojoba oil), rosa canina fruit oil (rosehip oil), persea gratissima (avocado oil), cannabis sativa seed oil (hemp seed oil), calendula officinalis seed oil (calendula oil), rosa damascena flower oil ( rose damascena oil),  canarium commune gum oil (elemi essential oil)